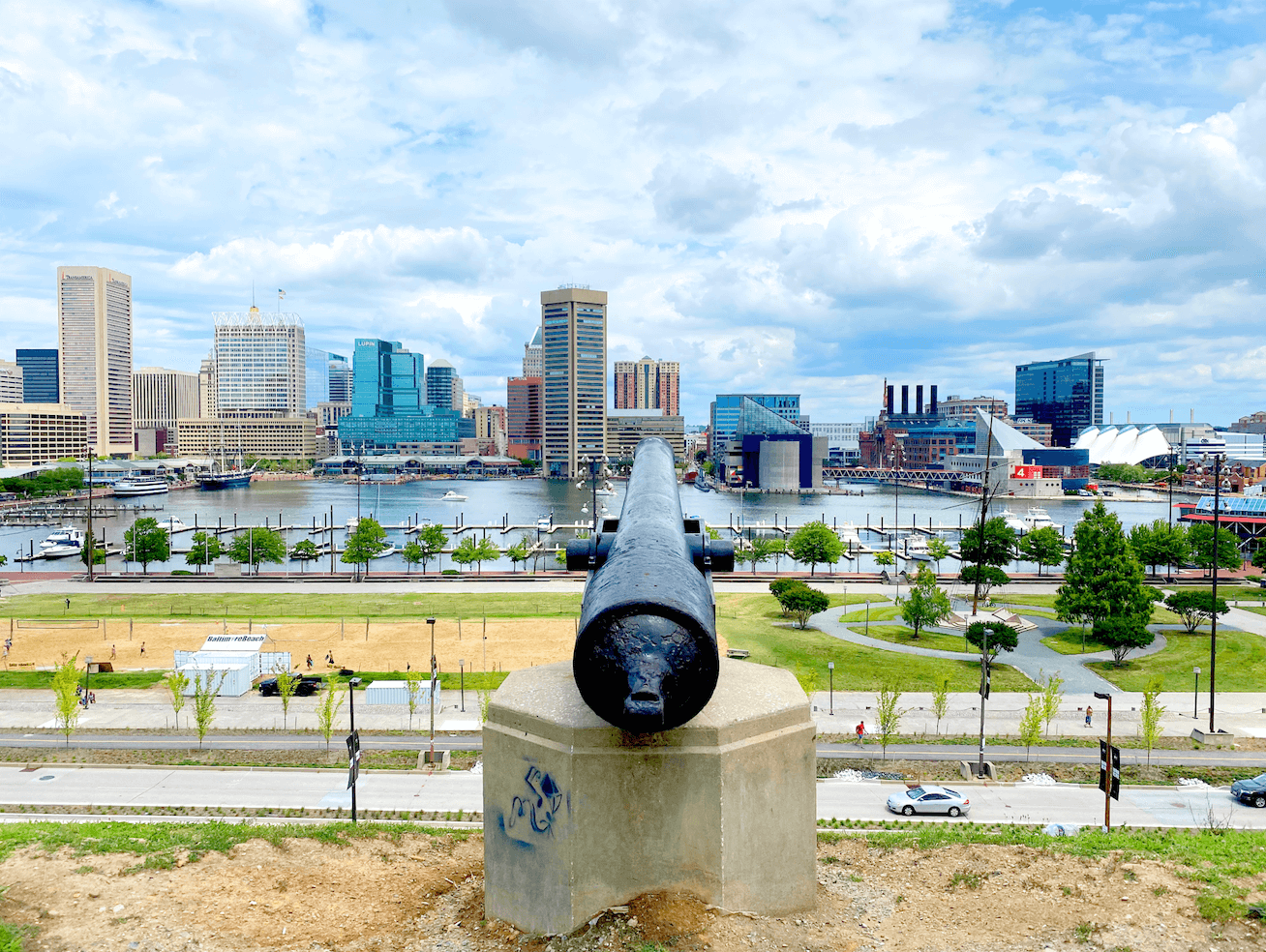 Now that warmer weather is finally here, it's time to get outside and enjoy it! Federal Hill has a plethora of beautiful activities that bring you outdoors and ensure you have a fun day in Baltimore. Whether you are flying solo, or are hoping to plan an outing with friends or family, be sure to check out some of these uniquely Federal Hill activities, just steps outside of your home here at 101 Cross Street.
One, Two, Three Strikes You're Out
There's no better way to start a trip to Camden Yards than by heading over to Banditos first to prepare for the big game. With fun variations on classic Mexican Street Food, such as Cheeseburger or Avocado Tacos, your taste buds will be ready to bat for the game. Also, be sure to try one of the tequilas or mezcals from their extensive collection.
One of the best parts about visiting Banditos before a baseball game is that you could get a free ride to the stadium! You can avoid the hassle of parking or getting an uber and opt to take a golf cart from Banditos to Camden Yards via Charm Cars. With convenient transportation, you and your friends can sit back and enjoy the ride… and the game!
Picnic in the Park
Federal Hill Park is the perfect place to flock when the weather gets warm. Best of all, it offers one of the best views of Baltimore and is only about a half-mile from your home at 101 Cross Street. Not only are the breathtaking views worth the short walk, but the history and importance of the park heighten its beauty. There is also a playground and basketball court located in the park, making Federal Hill the perfect place for a picnic or other activities! This well-loved park is one of the best places to enjoy Spring weather in the city.
If you prefer an elevated picnic that is already prepared for you, Charm City Picnic allows you to book a picnic complete with equipment, decor, wine and water glasses, personalized menus, flatware and plates at just about any park — including Federal Hill Park! You're also able to utilize the offered add-on services, providing you with tasty treats and more that will make this picnic a breeze! With stunning views and an aesthetic set-up, Charm City Picnic is a must if you are looking for a unique and memorable experience!
However, if you prefer the traditional DIY picnic experience, you can opt to shop at Cheese Galore and More, located just around the corner from 101 Cross Street on the eleven hundred block of South Charles Street. Craft your own picnic basket with a traditional Cheese Board, complete with various options for cheese and meat. You can also purchase a Nibblies Board, picking from a wide selection of bread, jams, meat, and cheese! If you want an authentic picnic experience, Cheese Galore and More has all you could need for the perfect picnic!
Brunch is Always a Good Idea
With bottomless mimosas, Little Havana is a must for Sunday Brunch in Federal Hill! Be sure to try some of their signature Cuban food, like Cuban Fried Eggs, Vaca Frita, or Pollo al Cubano. No matter what your taste buds desire, enjoy your brunch on the outdoor patio to breathe in some fresh Spring air along the water while enjoying your new favorite meal!
If the weather turns too dreary for an outdoor meal, try No Way Rosé for their Cirque du Sunday brunch! Inspired by the urban eateries of Paris, you will instantly be transported to another world with each bite. Order a tasty Charcuterie Board, or go for the Jumbo Lump Crabcake! With the wide array of selections, you just might have to order the whole menu. Even better, you can enjoy your meal while watching live entertainment, including a DJ and other performers. For a brunch that is more than just a meal, but an experience, No Way Rosé is the way to go!
Museum Musings
At the American Visionary Art Museum (AVAM), you can explore the unique art created by self-taught individuals who typically don't have formal training. You can check out their newest Mega Exhibit, Healing and the Art of Compassion (and the Lack Thereof!), which focuses on healing and compassion, and how they both impact us and are around us in our everyday lives. Other exhibits include The Science and Mystery of Sleep, A Visionary Spirit for Invention, and more that will leave you inspired.
You can also enjoy nice spring weather while visiting AVAM's Garden. Full of sculptures, including a Meditation Chapel, visitors will experience eye-catching pieces of art unlike any other. The wildflowers in the garden are also a wonderful reminder of the Springtime, and give you the opportunity to get outside and experience art in a whole new way!
Cross Street Market
At Cross Street Market, you'll find an abundance of stalls that will make your mouth water. Try The Watershed, offering fresh seafood and delectable cocktails. Best of all, you can choose to sit indoors, or on their rooftop terrace, making it the perfect springtime venue. There are tons of food and drink options to explore throughout the Market, making this the perfect place to spend a spring evening with friends or family!
We All Scream for Ice Cream
One of the best ways to cool down when the weather warms up is through America's favorite cold treat: ice cream. At Bmore Licks, you can choose from over 30 flavors of homemade ice cream that will leave you wanting more. From Mint-to-be Chocolate Chip to Holy Cannoli, these unique flavors cannot be found anywhere else! Other options include soft serves, sundaes, milkshakes, ice cream tacos, and coffee. Bmore Licks is truly an ice cream wonderland!
Moo Moo Cows also offers delicious ice cream straight from their dairy farm. Flavors range from Chocolate Banana Walnut to Salted Caramel Crunch, giving you a wide variety of icy treats to choose from. Moo Moo Cows also offers Non-Dairy Vegan Soft Serve, perfect for those with dietary restrictions. Treat your sweet tooth to some ice cream this Spring!
Serve it, Set it, Spike it
Head down to the Baltimore Beach to get some Vitamin D and take part in a fun game of volleyball! Whether you're a beginner or advanced, have a team or are flying solo, you can sign up for a league or drop in on Saturdays or Sundays for a good game. Located just across the street from Federal Hill Park, you will have a nice view of the harbor while you work up a sweat and win on the court. For an activity, whether you are new to it or experienced, volleyball at the beach is an exciting option for you and your friends to get involved in!
Enjoy Spring in Baltimore
After such a long Winter, it's time to soak up some sunshine. Whether you want to watch the Orioles game or grab a bite to eat, there are so many ways to celebrate Spring in Federal Hill. And don't forget — there's also plenty to do right at home at 101 Cross Street. With a theater room, clubhouse, fitness center, and the pool about to open for summer, you'll always have something to do at home and throughout Federal Hill.